Ma Perché BOLOGNA?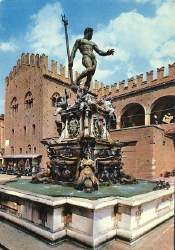 But why Bologna? If you've always wanted to study the Italian language and culture in Italy, you might want to consider a course in Bologna at the Centro di Cultura Italiana. I have returned many times to study there and can recommend the school to anyone who wants a studious yet relaxed atmosphere. The teachers are excellent and very serious in teaching us stranieri their beautiful language.
Each student takes a placement exam the first day, and the classes range from beginner to advanced (six levels). The school makes a concerted effort to satisfy the needs of every student, even in the suggestions it provides for what to do in the evening or over the weekend. Each level studies grammar for part of the time and concentrates on conversation for at least half of each day's class period. In addition, three or four seminars or guided excursions a week introduce many aspects of Emilia Romagna, Bologna, and its environs -- Italian culture, history, art, music, etc.
The classes have an interesting mixture of people, from all the countries of Europe, Australia, Japan, South Africa, Canada, and even one or two from the United States. Some are university students who want to study in an Italian university and have to pass a language exam, while others are immersing themselves in Bolognese life just for the pleasure of it! They come from every age group as well, retired men and women to young college students, and the school accommodates the requirements and preferences of everyone, regardless of his/her age, inside the classroom and outside.
Bologna is an elegant, gentle, beautiful city, with people who are friendly and helpful, with wonderful art and history, and an exciting university community. If what you want during a study sojourn in Italy is to blend in and feel a part of the daily life of a vibrant modern city that has retained the beauty of its medieval heart, then Bologna, with its miles of porticos, its red-tiled roofs and leaning towers is an excellent choice. Within minutes you can be in the rolling green hills that surround it. Virtually no tourists clog the streets, piazzas and museums, and its location as a center for rail transportation makes it easy to reach innumerable other places, like Florence, Ferrara, Milan, Parma, Modena, Venice, Rome, Verona, Ravenna, Rimini . . .
*******************************
If you are interested in studying Italian in Bologna through the Centro Cultura Italiana, please contact the school directly.
---
---
Home: Mary Tolaro-Noyes Homepage

Last update: 20-Mar-2004 Page Author: Mary Tolaro-Noyes